Call India at only 0.7¢/min with KeepCalling monthly plans!
You know what they say, the more the merrier. But if you have many friends and relatives abroad that you need to catch up with regularly, the saying can turn into "the more, the more expensive"! However, if your many friends and relatives happen to live in India, this adaptation won't apply to you any longer.
Why? Because India monthly plans now come with more minutes and lower rates. So much more, that you can now call India starting at only 0.7¢/min. The former India 500 and India 1100 now bring more minutes, while India 3000 comes with a much lower monthly fee. The more the merrier, indeed!
Try the larger monthly plans!
India 500 used to be equipped with 500 minutes to both landlines and mobiles in India, for only $4.99/month, but now it offers you 600 minutes, meaning a rate of 0.8¢/min.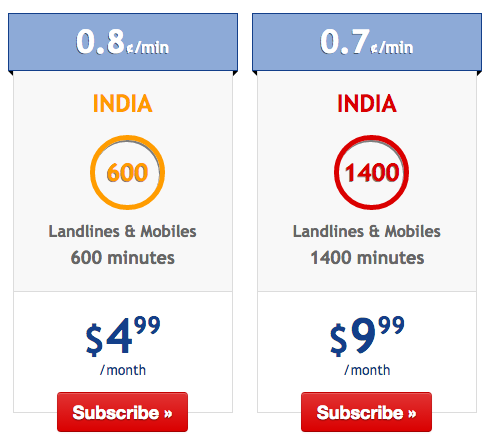 India 1100 has been upgraded to India 1400, providing you with 1400 minutes to any number in India for the same price of $9.99/month. India 1400 brings you the lowest possible rate for calls to India: a mere 0.7¢/min!
Try the cheaper India 3000!
India 3000 used to cost $23.99/month, but you can now get it for only $19.99/month. You still benefit from 3000 minutes to mobiles and landlines in India and from the lowest rate out there: 0.7¢/min.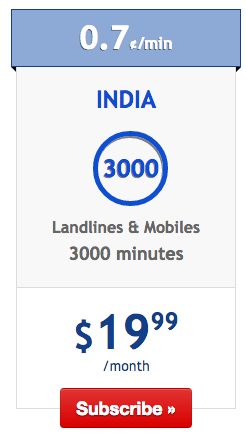 Monthly plans are definitely the best deals for calling India. Not to mention the top notch quality of the service and the automatic renewal every 30 days. Besides, if you run out of minutes before the end of your billing cycle, you can always repurchase a plan and the minutes you still have available (if any) will be added to the balance of the new plan you buy.
However, if you don't need many minutes each month, you can also call India using the Voice Credit service. You can choose any amount between $2 and $200 and use it whenever you want to, as the credit never expires. The Voice Credit rates for calls to India are 1.9¢/min for both mobiles and landlines and 2¢ for an SMS.