Romanians abroad keep calling home, no matter what!
Romanians. With all the myths and stories built around them, one thing is sure. No, not the vampire part! But the one about them loving their country. Spread all over the world, but still always carrying their native country close to their hearts, Romanians abroad keep calling home, no matter what. Because they surely miss their home while far away…
#1 How "far" is "fay away" for Romanians?
Here are some facts. 🙂
Romania entered the top 20 countries globally for the size of its diaspora, exceeding countries like the US, Turkey or Egypt.
More than 3.5 million Romanians officially live and work in other countries, according to United Nations data. Romania's diaspora stands for 17% of country's remaining population.
Most of these Romanians live in Italy, Spain, United States, Germany, Israel or UK. The list can go on, but did you know that there are Romanians living in countries like China, India, Guyana, Paraguay, Barbados, Vietnam or Burkina Faso?
In Macedonia there is only one Romanian officially registered by the authorities. And there are also some information that there is one living in Mongolia as well.

We can truly say they have conquered the world and there is no continent they haven't chosen to be their foster home. But how do they keep in touch with their real home? With their family and friends in Romania?
#2 A simple and economical way to keep in touch
Great quality, big savings! KeepCalling is the way to keep in touch! And Romanians know it, because Romanians abroad have been using the service as early as 2002.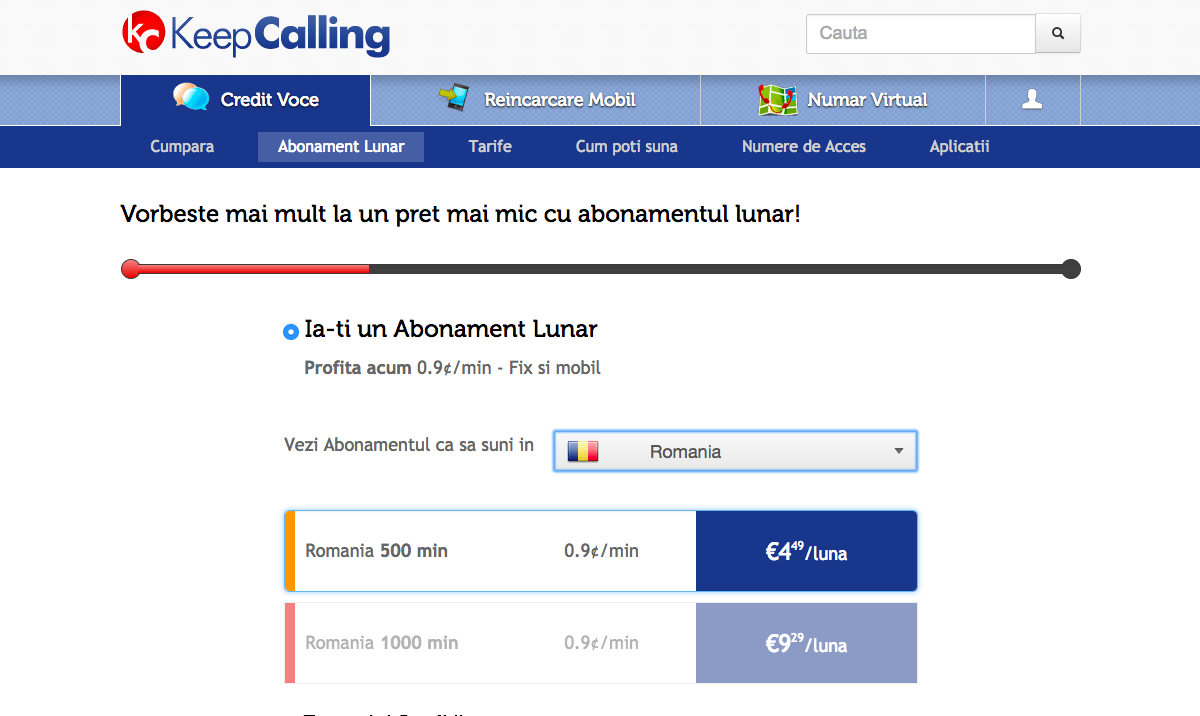 The service was set up in 2002 on a shoestring budget, by a Romanian in the USA, who needed to make the ideal international calling service real. First, it was about himself and his party of expat friends, but later it became bigger, with hundred thousands of expat fans worldwide.
Let's get technical about KeepCalling today. After years of feedback from the Romanian diaspora as well as other ethnic groups, the service has finally reached the ideal standards.
After signing up and making an account, one can buy Voice Credit to call home anytime on landlines or mobiles as follows:
Romania landline 0.8¢/min

Mobile 2.1¢/min
The monthly plans are a sure way of saving money and time, because we know how important these two are for any expat. Romanians have two plans to choose from, according to their needs:

Romania 500 min




1¢/min




$4.99/month

Romania 1000 min




1¢/min




$9.99/month
#3 Pick your favorite way to call: KeepCalling app or an Access Number
If you are a smartphone fan and have good internet connection, than the KeepCalling App is a great choice for you. Of course, you can always choose an access number as well, if you don't want to depend on the Internet connection.
So, dear Romanian expats out there in the world, looking forward to your next call home? KeepCalling is here to help.
#4 KeepCalling fans get other goodies besides price and connection quality
Many Romanians living and working abroad picked KeepCalling for other aspects besides low rates and connection quality. Actually, a great segment of the loyal customers have at least once in their life shared their feedback to optimise the international calling service we call KeepCalling. This way…
Everyone gets loyalty points (Thank You points). And more Thank You points with Refer-a-friend program. Both programs bring extra free credit for future calls.
You have 24/7  friendly and immediate Support in Romanian and other languages like Spanish, French and English.
FREE calling features to keep it simple: PINless, Speed Dial, Auto Recharge, etc.
KeepCalling app is free to install on any Android or iOS device.
Regular giveaways of Facebook
Numerous offers by email if subscribed to the spam-free Newsletter.