10 of the best desserts in the world
From childhood treats to a grandparent's favorite recipes, beloved foods are deeply personal. This seems especially true of desserts, which often take pride of place at celebrations and traditional holidays. For all the nostalgia of sugary treats, though, some sweets rise above local flavors. Here's a list of some of the best desserts in the world.
1. Apfelstrudel (Austria)
For a floury lesson in gluten's architectural wonders, whip up a batch of traditional strudel dough. The real thing is stretched into an improbably thin sheet; according to legend, it should be transparent enough to read a newspaper through.
Once extended, the delicate dough is wrapped around a sweet, apple filling that's enriched with buttery fried breadcrumbs, raisins and sometimes walnuts. The delicious result can be found in pastry shops around the world though Vienna provides the classic experience.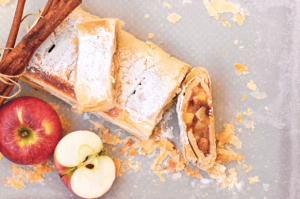 2. Baklava (Middle East)
No list of the world's best sweets and desserts would be complete without baklava from the Middle East. It's a sweet pudding, often served in restaurants at the end of a meal when you're given the bill, but you can also order it from cafes as a mid-morning or afternoon snack.
Baklava is made from layers of paper-thin filo pastry, butter, chopped nuts and a sweet syrup fragranced with rose or orange blossom water. It's normally made in big tins, baked and then drizzled with even more syrup before cutting into smaller pieces.
The history of baklava is disputed, with Greece and Turkey both laying claim to its invention as far back as the 2nd century BC. Regardless of its roots, it is just as popular today and deserves its spot on this list of the top 10 bakes from around the world.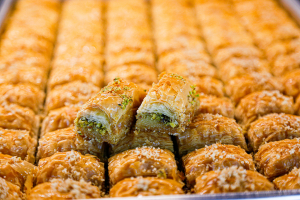 3. Brownies (USA)
Fudgy or cakey? Corner piece or slice from the middle? Aficionados of this beloved American sweet are sure to have a take on the best — and worst — way to make a brownie. One of the earliest recipes appeared in Fannie Farmer's 1906 "Boston Cooking School Cook Book," using the unsweetened chocolate that lends brownies a fudgy texture.
In more than a century of brownie making, they've become a mainstay treat, the base for sundaes and a seriously addictive ice cream flavor.
Even Katharine Hepburn had an opinion on how to bake them, and an old story holds that the actress once dispensed the following advice: "Never quit, be yourself and don't put too much flour in your brownies."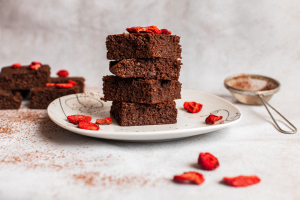 4. Cannoli (Sicily)
A shattering-crisp shell gives way to a creamy cheese filling in this Sicilian classic, whose roots reach deep into the island's diverse culinary history. With origins at the wild Carnival celebrations at Palermo, the traditional cannolo is filled with silky-smooth ricotta cheese made from sheep's milk.
Taste that rich filling for evidence of the Arab influence that infuses Sicilian cuisine: The candied citrus that often flavors the creamy interior remains beloved throughout the Middle East.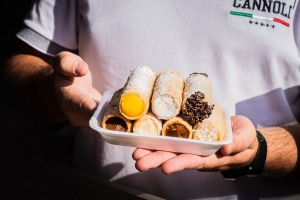 5. Crème Brûlée (France)
Shiny, burnt sugar tops this creamy dessert, and the perfect crème brûlée is a study in contrasts. Each bite should blend a bit of crispy caramel — burned just to the very edge of bitterness — with the aromatic flavor of vanilla custard.
Often made using pure cream, crème brûlée is among the richest of all the custard desserts, and it must be gently cooked in a water bath to prevent curdling and overbaking.
For pastry chefs, part of the appeal of preparing crème brûlée is the fiery drama of burning the sugar topping. They execute the job with everything from a blow torch to a traditional salamander, a cast-iron disk that can be heated to blazing temperatures and is said to produce the most even results.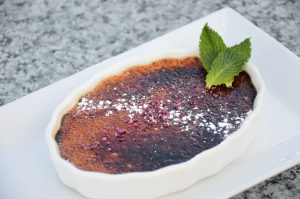 6. Gulab Jamun (India)
Gulab jamun is easily one of the best desserts in the world. Imagine a deep-fried doughnut in bitesize form, soaked in a sweet syrup. Now imagine something that's even better than that, and you've got gulab jamun.
Gulab jamun is made by mixing dried milk powder, flour, yoghurt and clarified butter with flavourings before rolling into a ball and deep frying. It is then soaked in an infused syrup for a few hours before being topped with crushed nuts and served.
It's one of the best desserts from around the world, traditionally served to celebrate festivals and parties or to welcome guests in Southern Asia. If you're travelling to India, Bangladesh, Pakistan, Nepal or Sri Lanka over your summer holidays, there's a high chance you might be treated to gulab jamun at a restaurant.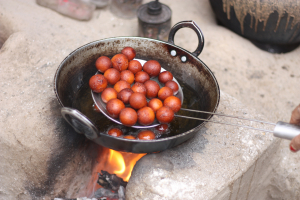 7. Sticky Rice with Mango (Thailand)
Ignore the chalky versions sold in restaurants that are 10 time zones from a mango tree; a ripe, tender dish of sticky rice with mango is among the world's most perfect desserts. This traditional sweet begins with the glutinous rice that's grown in paddies across Southeast Asia, and the starchy grains combine with rich coconut milk and palm sugar for a treat that retains a chewy bite even when it's perfectly soft.
The sweet world of mangoes includes hundreds and hundreds of cultivars, but for a truly Thai sticky rice with mango there are just two favored varieties: choose between nam dok mai, a sweet, yellow fruit that's pertly curvaceous, or aok rong, whose higher acidity offers a pleasant counterpoint to the sweet rice.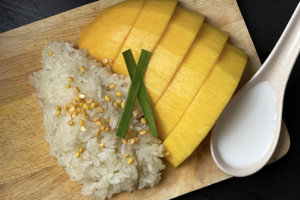 8. Pasteis de nata (Portugal)
When asked what the best cuisine in the world is, Portuguese food rarely gets a mention. But it certainly should when it comes to the best desserts in the world!
Pasteis de nata is a traditional Portuguese custard tart, with a deliciously crispy and flaky pastry shell, filled to the brim with a sweet, creamy custard centre. Best served warm with a light dusting of cinnamon, it's impossible to eat just one of these. You'll be going back for more if you're holidaying in Portugal this year!
These little morsels of delight were first created by the residents of the Jeronimos Monastery over 300 years ago in Belem. After the monastery closed, the original recipe was sold on to a little cafe around the corner, Pasteis de Belem, which still keeps it a closely guarded secret.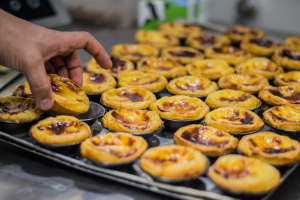 9. Rum cake (The Caribbean)
Rum cake is one of the best traditional cakes from around the world. Originating in the Caribbean, rum cake is a sponge baked in a savarin mould (giving it a slightly doughnut-style shape) and then soaked in rum. It's often topped with icing or dried fruit and nuts, so there's plenty of choice.
It's traditionally served during holiday season, but many souvenir shops and supermarkets sell it to visitors by the suitcase load! Make sure you check the alcohol levels in the rum cake when you try it in the Caribbean. Some people report becoming intoxicated by it!
If you want to try rum cake at home, head over to the Brown Eyed Baker's blog for a homemade rum cake recipe.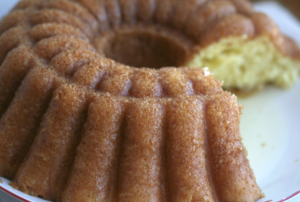 10. Mochi (Japan)
Japanese mochi gets its name from mochigome, a glutinous rice that is pounded into a paste and molded into a circular shape. Mochi is available year-round, but it is most often eaten and sold at Japanese New Year. It is often wrapped around a small scoop of ice cream.