Do you love to chit chat with your loved ones but feel like you always have to cut your conversations short because of the huge costs for international calls? If your favorite calling destination is either South Korea, South Africa, Ireland, Colombia, or Brazil, KeepCalling's got you covered!
Pick a Monthly Plan and call home as much as you like. Monthly Plans are the best choices for frequent calls to a certain foreign country because they offer a high amount of minutes for a low monthly fee. You can call both landlines and mobiles for a much lower rate than the Voice Credit one.
Besides, they renew automatically every 30 days, so you don't need to worry about buying more minutes. If you happen to run out of credit before your billing date, you can always renew or upgrade your plan. Here 's the good news for Monthly Plan users calling South Korea, South Africa, Ireland, Colombia, or Brazil:
More affordable plans for South Africa & Colombia
It is now easier to share stories with your family and friends in South Africa and Colombia using the freshly discounted Monthly Plans!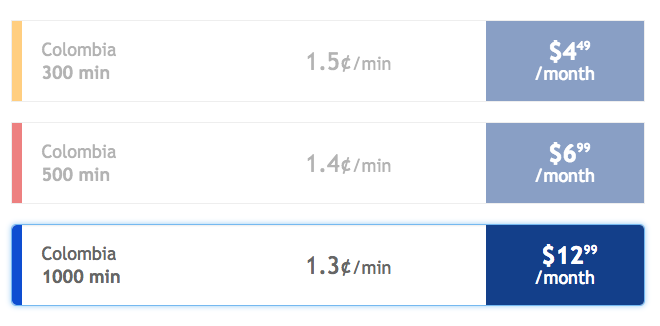 Colombia 300: $5.79/month (1.9¢/min) ->

$4.49/month (1.5¢/min)

Colombia 500:  $9.49/month (1.9¢/min) ->

$6.99/month (1.4¢/min)

Colombia 1000: $17.99/month (1.8¢/min) ->

$12.99/month (1.3¢/min)
Unlimited plans for South Korea & Ireland
Is there anything better than unlimited calls to your loved ones? We think not.
 You can now chat for hours on end every day for the price of a hot dog & soda. 
Korea 500 ($4.49/month) and Korea 1000 ($8.99/month) -> Korea Unlimited: 

$4.49/month

Ireland 500 ($4.99/month) and Ireland 1000 ($9.99/month) -> Ireland Unlimited: 

$4.99/month
New plans for Brazil
If your family and friends live in Brazil, you can now keep in touch with them as if you were living in the same country. Just pick one of the new Monthly Plans for your favorite country.