See what customers say about KeepCalling!
You know how much we value feedback from our customers. It has always helped us get bigger and better. Our products, features, and apps are most of the times the result of customer feedback.

To collect even more precious insights into our customers' opinions, we joined a popular customer reviews website called Trustpilot. On this platform any customer can rate our services and express their views regarding them.

So far we've received nearly 500 testimonials and 86% of them are 4 and 5 star reviews. Our customers rate KeepCalling.com as "Great", with an average score of 8.7. Check out some of their opinions!
Best International Calling Service!
I have been using Keep Calling for over a year and it has saved me and my family so much money. Truly the cheapest company or method to make international calls. I recommend it to everyone I know!  (George Georgiadis)
keep calling Keeps me calling
My experience has been great. I find the service easy to use the price is reasonable and I have not had any issues with connection or clarity  (Louise Anderson)
5 Years and Counting
I have been a customer for over 5 years now and I am very happy with the service and the great value. KeepCalling, works very well for me and I will continue to use it so long as they continue to provide this quality of service. Thanks for saving me a considerable sum over the years.  (Jonathan)
KeepCalling.com is everything it could be
In my opinion, KeepCalling is the best long distance service out there—and I have tried quite a few. It has the best rates, and you can easily add money to your account (and your account credit never expires). The long-distance connection itself performs flawlessly—no garbles or broken-up communication. I would recommend it to anyone.  (Ed McCaig)
Besides all the obvious positives that KeepCalling.com offers and that we strive to improve day by day, every customer has their own story and their reasons for choosing our services.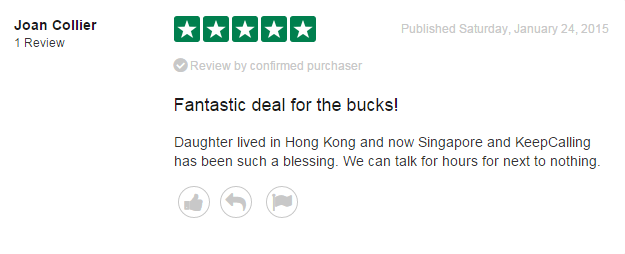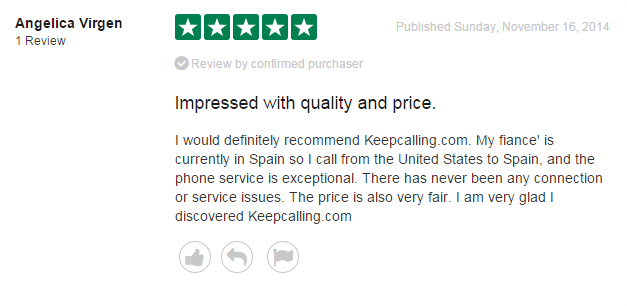 We'd love your feedback, too! Head over to our Trustpilot account and tell us your opinion about KeepCalling.com.