Use Voice Credit with Access Numbers
If you want to use KeepCalling from your landline or regular phone, you will need to use an access number. First, you need to buy Voice Credit, our prepaid international calling service. You will receive a PIN number by email along with calling instructions. Your PIN is also visible in your account. Now, you need to know that there are two types of access numbers: local and toll free.
A Local Access Number is a regular phone number that directs your call to the destination, through KeepCalling.
You can dial our local access numbers from any phone or network. To make your international calls the most affordable, make sure you connect through the local access number closest to your location. That's easy because KeepCalling offers hundreds of local access numbers in more than 35 countries. Let's say you're in Atlanta. Go to Voice Credit > How to Call > Any Phone and use the drop down menu to find the access number in Atlanta:
What you need to keep in mind is that our local access numbers in most countries outside US and Canada are landline numbers. This means that if you are calling from your mobile, your mobile provider will charge your call accordingly. Contact your local mobile provider to ask what the cost per minute to local landlines is.
Once you find out the local access number, you might want to save it on your phone to easily get hold of it when you need to call. Our free features will come in handy, too. You can skip entering the PIN with PINless Dial. And here is how you can save your favorite numbers with Speed Dial.
A Toll Free Number helps you make international calls without charges from your provider.
When using a Toll Free number, the call will be charged directly to your PIN and you will pay an extra amount per minute added to the normal rate, as displayed on our site. This option is useful, let's say, when you are traveling and you want to call abroad from your hotel room. Instead of paying the hotel's ridiculous fees, you can use our Toll Free numbers to make the call. Do check our fee by visiting Voice Credit > How to Call > Any Phone and selecting the country you are in. We have hundreds of Toll Free access numbers available for you in various countries:
This is how the calling process works.
Start dialing the Access Number, enter your PIN and you will hear a prompt with your current balance. Then you will be asked to dial your destination number. After entering your destination number you will hear a prompt with the number of minutes available and the call will be connected. There is no need to press any additional buttons when making the call.
If you hang up a call and want to redial the number or a new one, you will need to initiate the sequence of numbers again (dial the access number and pin, then the destination number).
Of course we have shortcuts for you to make the call faster. This is what our free features do. You can turn off your Voice Prompts, for example. Activate these free features from your account. You can also see your call history displayed in your account. While you're there, rate the call quality to help us improve the connections and guarantee the best experience for you.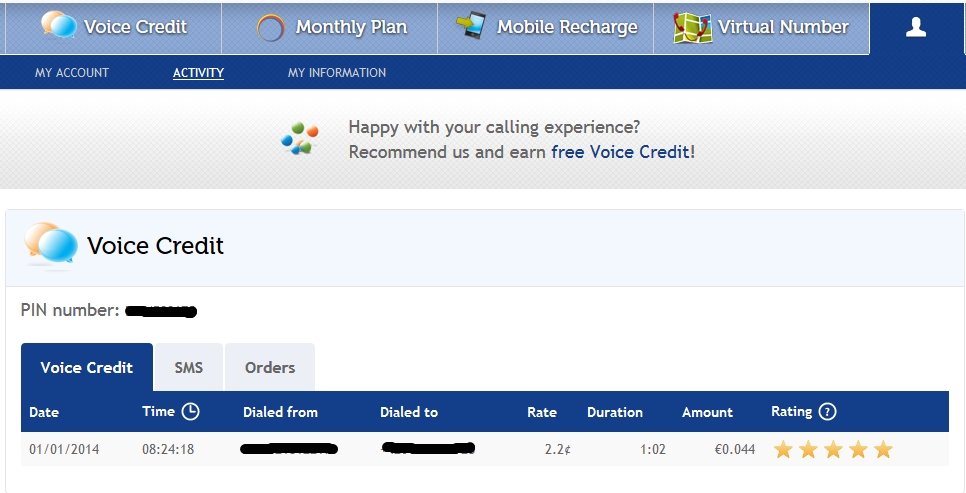 It's easy to call internationally with KeepCalling! And our customers agree:
"Been using KeepCalling.com for a year now. Was skeptical at first so just bought a $5.00 credit. WOW. No complaints. I've programmed in the free local access numbers and my favourite long distance numbers to call. Those services that offer .99 calls are a rip off as they're .99 if you only chat for 10 minutes, while that same call within Canada would cost me ten cents ! Great buy. Great service. I recommend it to friends all the time."
If you haven't used KeepCalling yet, this is the time to open your free account and start making international calls that you can afford!
Follow us on Facebook or Google+ to get other great tips on how to call abroad.