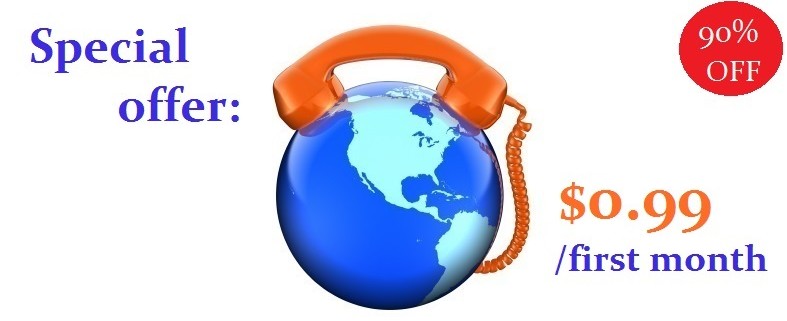 Get a Virtual Number to receive calls at local rates
How many calls do you receive from home these days? Probably not as many as you'd like, with all the extra charges for long distance calls. If you miss being called and want to help your loved ones reach you easily, KeepCalling.com invites you to discover a very interesting way of keeping in touch with them: Virtual Number.
What are Virtual Numbers?
Virtual Numbers are local numbers in the country where your family and friends live. They call the VN and are charged for a local call, but the call is forwarded to your phone in the country you live in. Virtual Numbers are monthly subscriptions which are automatically renewed every 30 days and can be canceled anytime with no penalties.
Here's exactly how the VN service works! Let's say you live in USA and your family lives in Mexico.
You need to select USA as the country you currently live in… ⇒
⇒ … and Mexico as the country where you want your Virtual Number to be.
You will then be able to select the city/area code… ⇒
⇒ … and proceed to check out.
After you receive the VN… ⇒
⇒ … you will be able to forward it to your own phone number (landline or mobile).
This way, you'll receive calls from everyone back home and they won't have to pay long-distance charges.
The best Virtual Number offer out there!
To invite you to test this unique product, we have prepared a very special offer: 90% off its price for the first month. Try a Virtual Number in any of the 40 countries available for only $0.99/first month instead of the usual rate of $9.99/month. All you have to do is place an order using coupon code VN_GIFT by April 24th.
Then tell your family and friends you got a Virtual Number. They will love you! Can you imagine how popular you'll become all of a sudden?! 😉