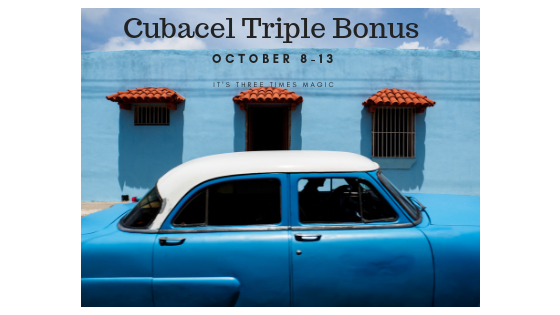 Get your share of magic with the Triple Bonus from Cubacel
Is there really any magic in the number "3"? The Holy Trinity, the three primary colours, the triangle, the three musketeers…Yes, the magic is there, all right. And we can give you one more example of perfection. The October Cubacel Triple Bonus!
Recharging a mobile in Cuba between October 8-13 can bring you that (3 times) magic you needed these days. Here are the bonuses you're getting, if you're fast enough to grab his offer:
20CUC – 40 CUC bonus
30CUC – 40 CUC bonus
40CUC – 80 CUC bonus
50CUC – 80 CUC bonus
60CUC – 120 CUC bonus
80CUC – 160 CUC bonus
What should you keep in mind during this promo?
– The promotion will run from Monday  October 8th, 2018 00:01 Cuba time to Saturday, October 13th, 2018 23:59 Cuba time.
– One can use promotional balance for local and International calls and SMS.
– Promotional balance does not apply to Nauta email from mobile phones, the service will deduct from the main balance in this case.
– The expiration date is not accumulated from previous promotion, if a customer has promotional balance, it will keep separate date for this promo. In this case, promotional balance will expire in October 31st, 2018 at 23:59 Cuba time.
– Main balance will keep same validity as previous promotions (330 days from recharge date).
– The balance transfer service is not available with promotional bonus, only main balance can be transferred.
– If promotional amount is not enough to complete a call or to send a SMS, the service will deduct from the main balance.
– Customers will receive a SMS a few days before the expiration date of extra bonus.
– Customers can check their balance via USSD ( *222*266#) for free.
– Top ups of 40 CUC or more will divide into 2 or 3 separate top ups, so that you receive the maximum bonus possible. The recharges may arrive several minutes apart.
Enjoy the magic of this Cubacel offer and…