Two Thanksgiving gifts to choose from: $2 calling bonus or 5% top up discount!
It's Thanksgiving morning, our Facebook poll has ended, so here are your votes for the Thanksgiving gifts we proposed: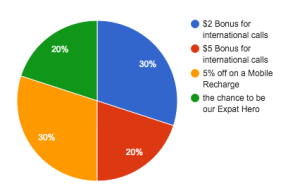 Things got so close that we ended up with a tie! So, when taking your gift, you can choose between a $2 Voice Credit bonus and a 5% discount for a Mobile Recharge. Now you can get the gift you want for the product you use. Having the freedom of choice is always great, right?
If you want to call with $2 bonus…
… place a Voice Credit order of minimum $10 using coupon code THANKSGIVING2 by Sunday, November 29. Then call your loved ones and tell them why you are thankful to have them in your life. Tell them that, whether you are together or oceans apart, you still cherish them and the relationship you have.
If you prefer the 5% top up discount…
… place a Mobile Recharge order using coupon code THANKSGIVING5. You can benefit from this offer until the same day, 29 November. Your brother or your best friend back home will be happy to receive this Thanksgiving gift and will know you're thinking about them.
Enjoy Thanksgiving with your loved ones…
… wherever they are! Thanksgiving is THE holiday where it's all about the others. Small gestures like telling people how much they mean to you and wishing them "Happy Thanksgiving!" best encompass the spirit of this day. Thanksgiving is not about presents, but about feelings. So even if your loved ones are far away from you, you can still celebrate together because they are actually only one phone call away.
Talking about people who are far away on Thanksgiving, here's what NASA astronauts do to celebrate. We bet your loved ones are not THAT far away, so that's just another thing to be thankful for today. 🙂