Update your KeepCalling iOS app!
You talked, we listened. Therefore, we come not just with good news about the KeepCalling iOS app, but also with a brand new version of it! For all you Apple & KeepCalling lovers, the latest version of your favorite calling app boasts an improved layout, new colors, a design which is adapted to iPhone 5/5S screen size, and bluetooth compatibility. We took into account all your suggestions and improved your international calling experience through our iOS app.
The new face of KeepCalling iOS app is waiting for you in the App Store
All you have to do to benefit from these amazing features is update the application from App Store, log in with your email and PIN, and enjoy the easy calling experience. The download is free of charge. Any customer who has an account with KeepCalling.com and bought Voice Credit or a Monthly Plan can use the app to make international calls and send SMS.
The benefits of KeepCalling app
As you know, KeepCalling app enables customers to call or send SMS to any international destination directly from their Apple device at the regular rates listed on KeepCalling.com. The application can be used from any iPhone, iPad, or iPod Touch.
The best thing about this smartphone app is that you don't need to dial any PIN and in fact any phone number at all when calling. You get to use your own phone contacts!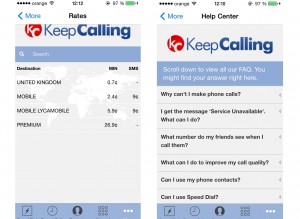 Additional features
KeepCalling app allows you to:
check your balance in real time
check the rates for any destination in the Rates tab
call easily by using the Speed Dial feature activated in your account
find the answer to all your questions in a very friendly Help Center.
KeepCalling app was designed to render international calls faster, in an easy manner, while keeping the high connection quality and the low rates KeepCalling.com customers are used to. The application is an answer not only to the increasing number of iOS users, but also to KeepCalling.com's wish to make the service as easy and accessible as possible.