Recharge a mobile faster! New option available
Speed is our middle name
How would you like to recharge mobiles with the speed of lightning? Can you imagine just clicking a few buttons instead of entering the same long phone numbers you can never remember? KeepCalling.com has made all that possible!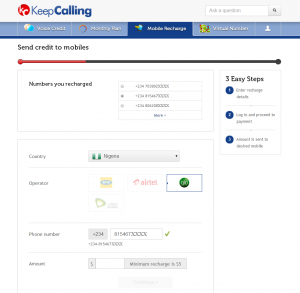 Log in, pay… recharge sent!
Now it's easier than ever! You just need to:
1. Log in to your account.
2. Go to the Mobile Recharge page. All the numbers you sent mobile recharges to in the last 90 days are listed here.
3. Select the one you want to recharge now and the country plus operator it belongs to will be automatically filled in.
4. Choose the amount of the recharge and continue to the checkout page. It's as easy as that.
Go on, break the mobile recharge speed record!