Get 70% OFF by choosing Tello as your US carrier
Tello is not your average wireless carrier! While other carriers focus on convincing customers to pay more than they really need, Tello brings you a special promotion that will help you save money for some cool things you might need this summer: shades, a cool beach bag, or an extra day spent travelling.
Summer deal for new Tello customers: 70% OFF any plan
Tello, the most flexible US carrier, launches the hottest summer deal: 70% OFF any new plan. What Tello had in mind with this promotion is for you to spend less on your phone bill & have more money to really enjoy the summer. 
Cross worrying about your phone bill off your list by switching to Tello and spend the extra money you'll  have on more important stuff this summer! Seriously, it's about extra pampering & saving some money.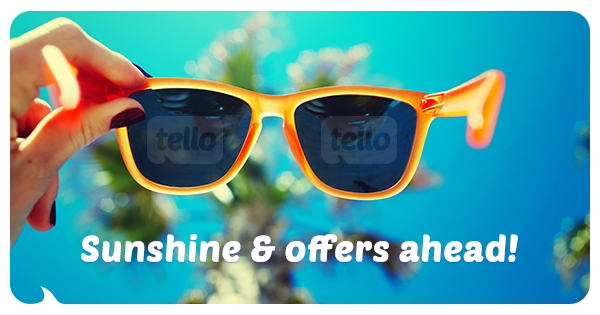 Who can benefit from this offer?
All new customers, who switch to Tello, open a new account & get any phone plan of $10 or more, as well as those who already have an account with Tello, but no first order yet. All they have to do is place an order using coupon code 2HOT. The offer is valid for one week, between June 23-30 (EDT).
The 70% discount is only valid for the first month, but there is no reason to worry, because helping you save money on your phone bill is Tello's mission.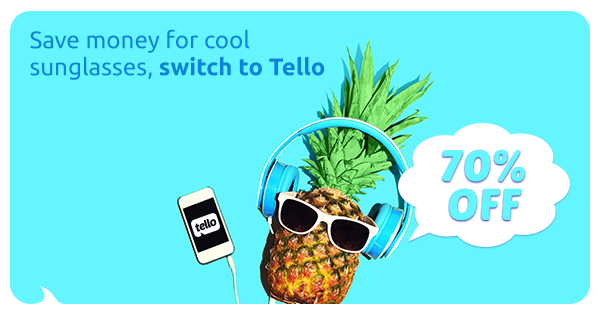 Why you should choose Tello
Tello offers a clean, upfront service with no fees whatsoever. Its monthly plans are fully customizable and you can choose any amount of minutes, texts, and data you want, including Pay As You Go credit, that can even be used to make international calls.
Plans are automatically renewed every 30 days. The national minutes included are also valid for calls to Canada and Mexico. Plans can be upgraded, downgraded, or renewed at any time, for no charge at all. Another perk of the service is free tethering: Tello customers can share data free of charge with other devices.